News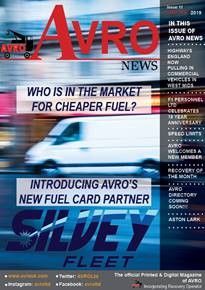 Please click here for your digital copy of the new edition of AVRO News, or here for the pdf version.
We hope that you enjoy this issue and are open to any feedback you may have.
Our magazine celebrates the industry as well as being informative on everything you need to know and want to know. It's all about you!
If you have any editorial that you would like us to include please feel free to send it in for inclusion in the next issue which can also help to publicise your company. Alternatively, if you would like to advertise your business in our magazine and website we have some great rates and offers!
To discuss editorial and/or advertisement for our next issue please call 01788 572850 or email jazzy@avrouk.com
AVRO NEWS MAGAZINE
Please click here for your digital copy of the new edition of AVRO News, or here for the pdf version.
We hope that you enjoy this issue and are open to any feedback you may have.
If you would like to contribute any editorial or adverts for the next edition of AVRO News, then please do not hesitate to contact us, we're looking forward to hearing from you.
-------------------------------------------------------------------------------------
IMPORTANT ANNOUNCEMENT FROM HIGHWAYS ENGLAND:

Dear Vehicle Recovery Industry partner,
Earlier in September 2017, at the Tow Show, we were able to present our updated guidance for recovering vehicles from a smart motorway at our Highways England stand and in an address to representatives of your industry.
After receiving your feedback at the event I am now happy to share all the material with you through our new web-page which can be found here:
The film and material we have produced intended to guide you in safer recovery practices, is a direct result of our learning from over twenty years of operating controlled and smart motorways, together with collaborative work we have done together, such as a recent joint exercise at the Fire Service training college in Gloucestershire.
Perhaps the most important piece of this advice that we gave at the Tow Show and one which we emphasise in every encounter with you and your colleagues is the message that vehicle recovery operators are never expected to work in a live lane on the motorway.
We think it is vital to communicate as widely as possible with your colleagues to ensure that recovery from our network can be made as safe as possible. Highways England will support you by setting signs and signals to improve your safety and allocating traffic officers or calling on police resource if required to ensure that you should never have to attempt to recover a vehicle which has broken down or had an accident in a live lane.
Further the film and guidance outlines ways to maximise safety during recovery when a vehicle is in an Emergency or SOS Area adjacent to the motorway, particularly when re-entering the carriageway from an emergency area, by encouraging you to get in touch with our Regional Control Centre via the emergency phones in situ or by calling 0300 123 5000.
The guidance has been reviewed by leading industry representatives and we are confident that the advice it contains does not place any extra burden on yourselves as recovery professionals and instead provides you with better information to carry out your duties more safely on our network.
Once shared with your colleagues, I would welcome your feedback on both the film and printed guidance.
If you have any further requirements then I would advise you to get in touch either with myself of our Contact Centre on 0300 123 5000 or TOSprocedures@highwaysengland.co.uk
Yours faithfully,


Andrew Eade
Team Leader, Incident Management Requirements Team
Safety, Engineering and Standards,
Highways England
Web: http://www.highways.gov.uk
PRESS RELEASE … PRESS RELEASE … PRESS RELEASE EVENTS!

Make savings on your fuel bill - Avro are working in partnership with The Fuelcard People to offer their members competitive fuel card packages.
AVRO members GO HERE Fuel Card Savings To get up to 10p per litre savings on diesel and petrol, just go to

https://www.discountfuelcards.co.uk/association/avro-members/

PRESS RELEASE NEW MEMBER BENEFIT
AVRO – APEX


AVRO in collaboration with APEX Networks are offering a new member benefit for anyone interested in their RMS recovery management software product. Any AVRO member that purchases an Apex RMS software licence will have the benefit of the system for an initial period of 3-months before having to pay the system licence fee.
How to claim the incentive:
To claim the incentive you, the member contact AVRO Head Office quoting "AVRO-APEX Incentive Scheme". The enquiry will then be forwarded directly to Apex Networks who will follow it up without delay. *
Practical assistance and training will be provided to set up your new system. On site handholding to help with the transfer of data from your existing software system, or help with setting up a new company is also available.
* please note that the offer does not apply to orders already received directly by Apex
THE AVRO SCRAPHEAP CHALLENGE - 26th JUNE - 1st JULY 2017
It was a great challenge and much fun for a good cause!
This is a tale of 12 cars, 35 people, 9 countries, 3 support vehicles and 2,500km. The Scrap Heap Challenge 2017 has just finished and was yet again another tremendous success. The brain child of Eamon & Eilis Kelly of Kelly Towing (Region 15) in Ireland, organised a return visit to Budapest where our intrepid drivers would endeavour to bring a number of old Eastern European cars all the way to Hinckley in the UK arriving for the 40th Anniversary of AVRO. Like last year the event was held in aid of the AVRO Benevolent Fund and did not fail to provide all with the trip of a lifetime.
Many of the drivers were returning participants from last year. You would have thought having gone through the trials and tribulations of keeping cars in convoy with all the mechanical challenges they provided previously, people would think twice about signing up again. Not a chance, everyone new and old arrived enthusiastic for the challenge that lay ahead. Read the full report in our July newsletter here click >>>>
New member profile—Stars Garage, Rohgh, Cardiff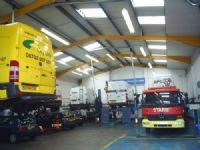 Stars Garage is a family run business that has been established for a number of generations, with years of varying experiences and skills. All staff are fully trained and qualified in various fields of motor mechanics, engineering, computer diagnostics and vehicle logistics.
Our History
In 1970 Smiths Garage was born. Mr Smith opened a garage in Cardiff Central Bus Station in the Hertz Complex.
Not happy with the area, Mr Smith asked his mum if he could use her shop lock-up in Harriet Street, Cathays, Cardiff as a garage. He had to get planning permission to use the site for commercial use - it was granted.
The company grew and expanded into breakdown and recovery, whereby Mr Smith realised he needed a bigger property and thus he rented a garage complex off Newport Road, Cardiff. The two properties were run side by side which opened up opportunities to work for recovery operator companies such as the AA and RAC.
In the 1980's a property in Fanny Street, Cardiff became available and was purchased with the intention of the site becoming an MOT station and bodyshop. Mr Smith gave up the Newport Road site for Fanny Street. In 1995 Mr Smith sold the Harriet Street garage, so as to develop the Fanny Street site. In 2000, Mr Smith sold up the Fanny Street garage and moved premises to a site in Tremorfa, Cardiff.
Over the last 10 years the business has grown and we have now moved to a more modern complex in Dominions Way Trading Estate, Cardiff CF24 1RF.
Our years of experience within this industry helps us take care of all vehicle needs.
The Great Avro Escape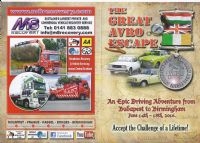 The object of the run is to raise funds for the AVRO Benevolent Fund
Cost
The cost for a team of two persons is 3,000 Euros. If you wish to add an extra person to your team there will be a supplement. Cost will include a classic eastern bloc car which you will be allocated the night we arrive (Tuesday night).
Flights from one of three airports:
Scotland
England
Ireland
Hotels
Night 1 Budapest
Night 2 Prague
Night 3 Kassell
Night 4 Brugge
Night 5 Coventry
Meals
Meals will include breakfast in the hotels for five mornings and picnic lunches on route. Evening meals are not included.
Incidentals
The Channel Tunnel crossing and all fuel and tolls for the journey are covered. All Entries will receive a pre-programmed Sat Nav.
Dinner Dance
Saturday evening dinner dance tickets and hotel accommodation are included.
While every effort is made for this trip we cannot guarantee that your car will make it!
Deposit
A non-refundable deposit of 500 Euros must be paid.
Avro Social & AGM 2016
The Association of Vehicle Recovery Operators
Social Event & AGM
Invitation
Saturday 18th June & Sunday 19th June 2016
You are invited to attend the AVRO Social & Annual General Meeting at Coombe Abbey Hotel.
Coombe Abbey was originally a Cistercian Abbey dating back to the 12th Century, the hotel stands in 500 acres of parkland, surrounded by a moat and overlooking formal gardens and lake designed by the renowned 18th Century landscape architect "Capability Brown". It is a breathtaking backdrop that will not fail to impress.
The dinner will be held on the Saturday evening with the AGM scheduled for Sunday morning.
Please find attached the booking forms for the Hotel and Dinner. Numbers are limited so please book early to avoid disappointment
Changes to ANS Network Settings

ANS Network - Important Changes to the Way You Receive Job Information from the Motoring
Organisations

If you receive your work from the Motoring Organisations electronically, via the ANS Network these
imminent changes may well affect your business.
The ANS Industry Forum comprises; all of the UK's Motoring Organisations, representatives of the Recovery
Industry and the Software Suppliers to the industry, namely Apex Networks (RMS), MTT (Garage Manager)
and Laser Byte (VTRAK). The ANS Industry Forums aims and objectives are; to maintain, develop and improve
the common messaging standard that allows Recovery Operators to receive their jobs from all Motoring
Organisations via one communications network. In the absence of the ANS Network each individual
Motoring Organisation would need to provide a communications platform with their chosen Recovery
Operators. From the Recovery Operators perspective this would mean they would need a communications
link with each of the Motoring Organisations they receive work from. Consequently it would mean multiple
links for each Recovery Operator, a communications nightmare!!
To keep abreast of changing technology, new features, the requirements of the Motoring Organisations and
Recovery Operators, updates to the ANS Messaging Standard need to be implemented from time to time.
Before any changes are implemented it is first ascertained that they are all compatible with the Motoring
Organisations systems and the systems provided by the industry Software Suppliers. This of course assumes
that the Recovery Operators are operating on a current version of the software provided by their chosen
software supplier.
It is therefore important that Recovery Operators are made aware that, with effect from April 2016
changes to the ANS Industry Messaging Standard will mean that Recovery Operators not on a compatible
software version may no longer receive vital job information transmitted to them from the Motoring
Organisations. It is therefore vitally important that you check that you are on a compatible version of your
chosen software.
Pas 43:2015
PAS43: 2015
The new PAS is scheduled to be released this year. It was supposed to be 2014 but changes in the draft document has meant that it will be a 2015 version.
There are a few changes and in order to fully understand these it is important that companies purchase the standard and read through it for themselves.
However we will concentrate on the main changes as seen by RIES.
Firstly in the term "competent trainer" it now states that a trainer MUST meet all of the following:
(a) Have a minimum of 2 years experience in the breakdown and recovery industry.
(b) Must have industry recognised qualifications in H&S, Customer Service and assessment of roadside situations.
(c) Must be trained in instructional techniques.
(d) Have competency in the type of equipment they are delivering training in.
(e) Within 5 years have updated knowledge / skills required to perform task through Continuous Professional Development.
This will obviously have an impact on companies who do in house training, i.e. competency must be demonstrated to the assessor.
Other changes relate to:
definition of a disabled person
definition of vulnerable person
introduction of definition of a Smart Motorway
new sub heading in relation to Environmental
removal of equipment list for vehicles
introduction of clause regarding requirements for Police Schemes
new phrase relating to appropriate premises and phrase relating to planning permission
inclusion of a new Annex outlining how to make a complaint against a PAS43 holder in relation to untrained staff, poorly maintained vehicles, wrong spec of vehicles, defective equipment and use of incorrect PPE.
In relation to the annexes that were in PAS43: 2014 a considerable amount of this material has now been included in the main body of the document.
As stated the only real way to be fully conversant is by obtaining the standard and looking through it.
AVRO and IVR in new training initiative

AVRO and the Institute of Vehicle Recovery (IVR) have agreed an initiative which will offer AVRO members easier access to 'industry standard' training programmes which meet both the requirements of Driver CPC and the 2015 introduction of training for PAS43.
Both organisations, which are members of the National Recovery Industry Training Group (NRITG), are aiming to provide access to training throughout the UK and Ireland via a number of approved venues. In order to facilitate this AVRO is keen to hear from any of its members who could offer use of a room,
with toilet facilities close by, which could seat at least 12 delegates. Overnight accommodation, either B&B or affordable hotels, must also be available within a short drive.
The courses would be organised by AVRO/IVR and all tuition will be provided by IVR approved trainers but support from AVRO members is essential in order the courses can be carried out locally to reduce the time and cost of delegates attending.
Please contact Sara Needham at the AVRO office on 01788 572850 if you feel you can support this vital