News
Event Schedule
Professional Recovery Tow Show 2019
As a leading figure in the industry we will be at the Professional Recovery Tow Show 25th / 26th September 2019 (Setup Day 24th September 2019) with our AGM and Social evening on Tuesday 24th September 2019 at the Telford International Exhibition Centre
Thanks go out to Aston Lark Limited, Morgan Finance and Recovery Industry Engineering Standards Limited, all of whom will be joining AVRO on our main show stand to create a one stop shop for not only current members but potential members and those interested in joining AVRO and assisting to lead the conversations within the industry,
We look forward to seeing you all at the Tow Show, and I would mention that places at our events are limited so please do not hesitate in contacting the AVRO office to make your reservations for the events. T: 01788 572850 E-Mail:sara@avrouk.com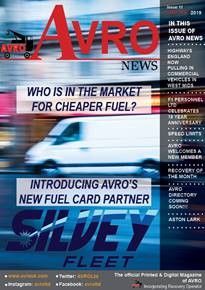 Please click here for your digital copy of the new edition of AVRO News, or here for the pdf version.
We hope that you enjoy this issue and are open to any feedback you may have.
Our magazine celebrates the industry as well as being informative on everything you need to know and want to know. It's all about you!
If you have any editorial that you would like us to include please feel free to send it in for inclusion in the next issue which can also help to publicise your company. Alternatively, if you would like to advertise your business in our magazine and website we have some great rates and offers!
To discuss editorial and/or advertisement for our next issue please call 01788 572850 or email jazzy@avrouk.com
BONIFACE MOURN THE LOSS OF A CLOSE FRIEND AND COLLEAGUE

JOSEPH STOREY
25-Oct-1943 - 28-Sep-2019
Born in Trimdon Grange, Co. Durham, UK. Joe passed away after a brief illness in Brampton Civic Hospital. Survived by wife Margaret (nee Duffield), Sons Tim and Todd, daughter-in-law Dianne and grandson, Ewan. Predeceased by his Parents, Joseph and Mary Jane, he is lovingly remembered by his siblings, Bryan and wife June, nephews Paul (Suzanne) and Andrew (Helen); brother William, nieces Catherine and Joanne, sister Jean and husband Peter and niece Kate as well as by Margaret's family!
Joe was a longtime employee of Miller Industries as a Director of Operations, working internationally in the Towing and Recovery industry and closely with his friends and colleagues at Boniface. Joe will be missed by many, not only in our industry but also by his friends in the shooting fraternity and those mutual friends of Margaret and the Boys.
Beyond his family and friends, Joe loved hunting and shooting, his dogs, rum and cokes (two generous fingers, please), Gordon Lightfoot's music, a barbecued steak, his dinners hot, NCIS and sitting on his deck in his oasis in Huttonville, preferably with all of the above.
A private family service will be held on Tuesday, Oct 1st and a Celebration of Life will be held on Sunday, October 6th from 1300 to 1600hrs at Scott's Funeral Home, Brampton.
In lieu of flowers, the family requests any donations be made to the Canadian Heart and Stroke foundation, Sick Kids Hospital or a charity of your choice.
For more information about Joe's Celebration of Life, to leave your own memories of Joe or to leave messages for his family, please follow the link in the news section of the Boniface web site at https://www.boniface-eng.com/news
AVRO NEWS MAGAZINE
Please click here for your digital copy of the new edition of AVRO News, or here for the pdf version.
We hope that you enjoy this issue and are open to any feedback you may have.
If you would like to contribute any editorial or adverts for the next edition of AVRO News, then please do not hesitate to contact us, we're looking forward to hearing from you.
-------------------------------------------------------------------------------------
IMPORTANT ANNOUNCEMENT FROM HIGHWAYS ENGLAND:

Dear Vehicle Recovery Industry partner,
Earlier in September 2017, at the Tow Show, we were able to present our updated guidance for recovering vehicles from a smart motorway at our Highways England stand and in an address to representatives of your industry.
After receiving your feedback at the event I am now happy to share all the material with you through our new web-page which can be found here:
The film and material we have produced intended to guide you in safer recovery practices, is a direct result of our learning from over twenty years of operating controlled and smart motorways, together with collaborative work we have done together, such as a recent joint exercise at the Fire Service training college in Gloucestershire.
Perhaps the most important piece of this advice that we gave at the Tow Show and one which we emphasise in every encounter with you and your colleagues is the message that vehicle recovery operators are never expected to work in a live lane on the motorway.
We think it is vital to communicate as widely as possible with your colleagues to ensure that recovery from our network can be made as safe as possible. Highways England will support you by setting signs and signals to improve your safety and allocating traffic officers or calling on police resource if required to ensure that you should never have to attempt to recover a vehicle which has broken down or had an accident in a live lane.
Further the film and guidance outlines ways to maximise safety during recovery when a vehicle is in an Emergency or SOS Area adjacent to the motorway, particularly when re-entering the carriageway from an emergency area, by encouraging you to get in touch with our Regional Control Centre via the emergency phones in situ or by calling 0300 123 5000.
The guidance has been reviewed by leading industry representatives and we are confident that the advice it contains does not place any extra burden on yourselves as recovery professionals and instead provides you with better information to carry out your duties more safely on our network.
Once shared with your colleagues, I would welcome your feedback on both the film and printed guidance.
If you have any further requirements then I would advise you to get in touch either with myself of our Contact Centre on 0300 123 5000 or TOSprocedures@highwaysengland.co.uk
Yours faithfully,


Andrew Eade
Team Leader, Incident Management Requirements Team
Safety, Engineering and Standards,
Highways England
Web: http://www.highways.gov.uk
PRESS RELEASE NEW MEMBER BENEFIT
AVRO – APEX


AVRO in collaboration with APEX Networks are offering a new member benefit for anyone interested in their RMS recovery management software product. Any AVRO member that purchases an Apex RMS software licence will have the benefit of the system for an initial period of 3-months before having to pay the system licence fee.
How to claim the incentive:
To claim the incentive you, the member contact AVRO Head Office quoting "AVRO-APEX Incentive Scheme". The enquiry will then be forwarded directly to Apex Networks who will follow it up without delay. *
Practical assistance and training will be provided to set up your new system. On site handholding to help with the transfer of data from your existing software system, or help with setting up a new company is also available.
* please note that the offer does not apply to orders already received directly by Apex
Changes to ANS Network Settings

ANS Network - Important Changes to the Way You Receive Job Information from the Motoring
Organisations

If you receive your work from the Motoring Organisations electronically, via the ANS Network these
imminent changes may well affect your business.
The ANS Industry Forum comprises; all of the UK's Motoring Organisations, representatives of the Recovery
Industry and the Software Suppliers to the industry, namely Apex Networks (RMS), MTT (Garage Manager)
and Laser Byte (VTRAK). The ANS Industry Forums aims and objectives are; to maintain, develop and improve
the common messaging standard that allows Recovery Operators to receive their jobs from all Motoring
Organisations via one communications network. In the absence of the ANS Network each individual
Motoring Organisation would need to provide a communications platform with their chosen Recovery
Operators. From the Recovery Operators perspective this would mean they would need a communications
link with each of the Motoring Organisations they receive work from. Consequently it would mean multiple
links for each Recovery Operator, a communications nightmare!!
To keep abreast of changing technology, new features, the requirements of the Motoring Organisations and
Recovery Operators, updates to the ANS Messaging Standard need to be implemented from time to time.
Before any changes are implemented it is first ascertained that they are all compatible with the Motoring
Organisations systems and the systems provided by the industry Software Suppliers. This of course assumes
that the Recovery Operators are operating on a current version of the software provided by their chosen
software supplier.
It is therefore important that Recovery Operators are made aware that, with effect from April 2016
changes to the ANS Industry Messaging Standard will mean that Recovery Operators not on a compatible
software version may no longer receive vital job information transmitted to them from the Motoring
Organisations. It is therefore vitally important that you check that you are on a compatible version of your
chosen software.