Covid 19 updates
AVRO President's Communication (28th May 2020)
AVRO President's Communication (28th May 2020)
COVID-19 Coronavirus
In writing today I so wish my words could start with "I am glad that is over, I am glad to see we are through it or can you believe what we have all just been through," but the reality is we are still in the midst of this terrible pandemic. Asking a serious question can we at this stage even say where we are in it and in asking that question a quote from Winston Churchill springs to mind, when in 1942 he said "this is not the end. It is not even the beginning of the end. But it is, perhaps, the end of the beginning." I have to say not being able to either answer that question myself or indeed have someone in power answer that question is not a comfortable position to find ourselves in.
I last wrote to all AVRO members directly on 9th April 2020 and I thought it worthwhile doing so again to bring you up to speed with what AVRO has being doing in its representation of its members and the wider industry.
Reacting
At the start of this crisis myself as AVRO President and Mick Puleston as AVRO Vice President took the decision that AVRO needs to be in the best position possible to tackle head on the challenges that were facing us with the oncoming COVID-19 pandemic. The decision was taken to form a Management Committee within AVRO National Council. This Management Committee would be tasked with responsibility for quickly reacting to any matter or situation and taking heed of the topics of the day to ensure that AVRO was best positioned to represent its members, but also support and assist any industry stakeholder to which we work closely with and who rely on AVRO for support, guidance and draw on the professional representation of its members. The Management Committee is made up of six members of AVRO National Council (who are myself, Mick Puleston, Graham Steedman, Gary Grieve, Craig Alexander and James Weedon) and we meet weekly via Zoom, with many phones calls, e-mails and additional video calls in between. This is working very well, and I believe it has been fundamental to AVRO being able to react quickly and ensure we are dealing with those important matters. On that point I would just like to express my thanks to the members of the Management Committee who have once again given excessive amounts of their time freely, both day and night all while having their own business to run and facing the same issues we all are in this crisis.
Continuing
AVRO National Council continues to be operational throughout this crisis and again is meeting via Zoom monthly, with the Management Committee reporting into it and the Council continuing the work of representing its members and working hard on members behalf. Like many organisations AVRO has had to adapt, but we have done it well and I have to say seamlessly. Our Council meetings continue to discuss, debate and action the topics of the day and attend to the needs and demands of our members as well as those of industry stakeholders who we work so closely with. In addition to monthly Council meetings, the work of Council continues in respect of our contact and dialogue with other parties. One such project ongoing is in depth discussions between AVRO and DfT in respect of electric vehicles. Several remote meetings have taken place on this subject as well as conference calls with the Fire Service and their associates. As many of you will know electric vehicles are an issue for our industry and AVRO is working with DfT and the Fire Service to form joint working practices to safely attend and deal with such vehicles. Again, my thanks go out to the AVRO National Council for their work and support, all volunteering their time freely and doing so while running their own business.
Police Management Fees
I very much hope that you have all seen the AVRO Member Communication of the 19th May 2020 regarding Police Management Fees in the UK. I have to say I think this is a great success for AVRO and we are seeing direct results of our actions. AVRO works closely with the National Police Chief Council (NPCC) and as well as writing to NPCC, AVRO wrote to all UK wide Chief Constables and Police & Crime Commissioners to highlight the pressures faced by the roadside recovery industry and in this case those operators who serve on Police vehicle recovery schemes. We requested a review of a number of items, with one being Police management fees payable by the operator and I was really pleased to see NPCC react and not only support our position but act upon it making a recommendation to all UK wide Police forces to review and look to suspend their management fees. Although this decision ultimately lays with each individual force to decide, we have already seen several UK Police forces reacting to this and suspending management fees with others going further in their support of their operators. A good result for not only AVRO members, but the industry. Our statement is on our website and can be downloaded. If your Police force has yet to react, I strongly suggest you take our statement and forward to both your force and management agent, if applicable, as an AVRO member.
Communication
Many of you may be at the stage of tiring of seeing AVRO popping up in your inbox, well I make no apology for that. We have worked extremely hard to ensure that you, our members, are kept as fully up to date as possible and we took the decision early on that we were going to ensure this was done. I hope that the information you have being getting through is of use to you and has been of benefit. We have been working closely with our business partners to ensure they are also supporting our members with information and advice, and this too has all been forwarded out to our members. Prior to the COVID-19 pandemic plans were a foot for a new AVRO website to be launched later this year. Again we took the quick decision to bring that forward and at the end of last month the new AVRO website was launched and included within it is all the important and relevant information that we have shared with our members through this time as well as much more. There is still some work to do on the website, but we believe it key that not only was it important to get information out, but have somewhere, where our members can refer. So please take a few moments to visit and look over the new website www.avrouk.com Please let us know what you think and if there is anything we can add for your benefit.
Lobbying
We continue to lobby hard for our members. We have been in contact with the relevant Government departments regarding the Job Retention Scheme (JRS) for furloughed staff, making clear the point that although it is very much appreciated, we feel that the scheme needs to be more flexible in order to be able to support our industry. We are encouraged to see that the Chancellor has firstly extended the JRS to 31st October 2020 but is now looking to introduce a 'flexible' element to the scheme. We await further details. Once they are released, we will study them closely and, if need be, will be pushing for further changes to the scheme to assist our bespoke industry. In addition to this, we are in the process of lobbying the UK Government in relation to business rates relief and grants. We are aware of certain industry sectors that are receiving such financial support through these reliefs and grants, but we strongly believe that our industry should benefit from these and are justly entitled. Our members business is no different to those who are eligible and have seen similar downturn in revenue.
Challenges
You will note the member communication released on 27th May 2020 regarding the carriage of passengers with passengers remaining in a casualty vehicle whilst being transported on the rear of a flatbed recovery vehicle. This was the result of serious legal questions being raised by several UK Police forces on the legality of the practice. As you will know the industry has followed SURVIVE best practice for several years. SURVIVE best practice does not cover individuals with a risk of COVID-19 or transmission and, let's face it, who in any industry planned for this? However even this has been brought into question which has resulted in a fundamental practice of the industry effectively being withdrawn. With that, AVRO has taken a lead on this and members of National Council have been working proactively with representatives from DfT, DVSA, HSE and NPCC to find a resolution. We have stated the case hard that the industry is more than capable of undertaking the safe removal of passengers, if the situation dictates and is the final option, to the nearest place of safety, it is fundamental to our operation and we need to be able to continue to do it. The issue being at present is that legislation has not caught up with current practices. Our statement of the 27th May 2020 was not particularly one I or anyone wanted to put out, but we have a responsibility to our members and AVRO guidance of 30th March 2020 was also subject to the same questioning. We are confident that we can resolve this matter and we have the determination to do it. I would strongly encourage you all to familiarise yourself with the AVRO statement of 27th May 2020 regarding the carriage of passengers as inadvertently and if you are not aware, you may risk finding yourself being prosecuted. As I have said, we are working hard on a resolution to this and we will ensure you are fully up to date with any developments.
Adapting
There is no doubt that we as an industry will need to adapt and change because of this ongoing crisis. One item for debate and consideration is the installation of protective screens in roadside recovery vehicles to provide a divide between any potential passengers and your technicians. On this it is for individual operators to assess the benefit and merit to their business but AVRO strongly recommends that any fitting of protective screens is done in compliance with government guidance and please ensure that you consult with your business insurers to ensure you are fully compliant with the terms of your insurance policy. This is a fine example of a situation where operators can very quickly, and inadvertently, find themselves in breach of their insurance terms, so please do ensure you consult with your insurance company.
Keep Going
So I bring my communication to a close today with the simple words, keep going, because right now that is all we can do - we all must keep going and do what we can to ride this crisis out and that is exactly what AVRO will be doing. There are many challenges still ahead, many of which I have detailed here today, but we have the will and enthusiasm to see it through as, I am sure, you do too.
I do very much hope you have been pleased with the work and response AVRO has given to this crisis and equally I hope as members of this association you feel represented and have the support and recognition you deserve. May I take the opportunity to thank you all for the personal sacrifice and effort you are all putting in to keeping not only our industry going, but playing your part, yourselves as key works, supporting the UK and Ireland and ensuring that we all keep going.
I finish once again on a personal note and I do very much hope you, your families and those closest to you continue to remain safe and healthy during this very trying and testing time.
Wishing you all the very best.
Stephen Smith
AVRO President
Member Communication Roadside Recovery Guidance - Removals to place of safety (27th May 2020)
Member Communication
Roadside Recovery Guidance – Removals to place of safety
27th May 2020
In response to the COVID-19 Pandemic and the resulting pressures on standard roadside recovery procedures on the 30th March 2020 AVRO issued guidance, entitled COVID-19 (Coronavirus) Roadside Recovery Guidance (30th March 2020). This guidance was produced drawing from industry best practice, training guidance, standard procedure, and regulation.
It has now come to AVRO's attention that this guidance, as with others, is now being called into question by several UK Police forces. This includes calling into question SURVIVE best practice, which has been industry standard for a considerable time.
Questions of legality are being asked in respect of the carriage of vehicle occupants whilst they remain in the casualty vehicle whilst being transported on the rear of a flatbed recovery vehicle. Prior to the COVID-19 situation and in line with SURVIVE best practice guidelines, it has been industry standard that when, for a small number of exceptional circumstances, the occupants of a casualty vehicle are unable to either exit the casualty vehicle or enter the recovery vehicle and are in a location or situation that prevents safe transfer of the vehicle occupants that they remain within the casualty vehicle, which is then loaded on to a recovery vehicle (flatbed), secured and removed to the nearest place of safety where alternative arrangements can be made in a safe environment.
AVRO has been in consultation with the Department for Transport (DfT), Driver & Vehicle Standards Agency (DVSA), Health and Safety Executive (HSE) and National Police Chiefs Council (NPCC) regarding this matter. What is apparent is that there are several pieces of legislation that are not applicable to this procedure.
There is a duty on an operator under section 3 of the Health & Safety at Work Act 1974 to take reasonably practicable steps to ensure the health & safety of members of the public. That means that, if there is a safer way of removing people from the scene, you should use it. In any case any operator must have in place a written safe system of work, risk assessments and method statements to cover any such activity. Further guidance can be found from HSE publication HSG136 Workplace Transport
At this stage however this procedure could contravene both The Road Vehicles (Construction and Use) Regulations 1986 (section 100) and Road Traffic Act 1988 (section 40a). Both sections of the legislation related to the carriage of passengers in a safe manner and it is these sections AVRO believes several Police forces have raised issue with and believe the procedure contravenes.
UK Government Guidance: Running a vehicle recovery business: driver and vehicle safety rules (updated 2018) states:
9.9 Carrying passengers in towed vehicles: Passengers can be carried in a broken-down vehicle if the speed does not exceed 30 mph
We are now advised that the definition of a towed vehicle is one that is towed by means of a physical tow such as tow rope or straight bar. This does not include the loading of a casualty vehicle onto a flatbed recovery vehicle.
This situation has come to prevalence due to the ongoing COVID-19 pandemic and the need for our industry to adapt its policies and procedures, in a quick reactionary environment, regarding the carriage of passengers. A fundamental part of the work undertaken by our industry is as well as the removal of a casualty vehicle, is the safe and effective removal of vehicle occupants, usually in conjunction with their vehicle, However COVID-19 has prevented usual procedures i.e. carrying of passengers within a recovery vehicle but it cannot be denied that a duty of care still falls on the roadside recovery operator to safely and effectively facilitate the removal of vehicle occupants, where safe and possible to do so. Which is why AVRO in producing its guidance of 30th March 2020 took SURVIVE best practice guidance and recommended its application to the case of persons with suspect COVID-19.
To be clear at this stage, AVRO has given positive guidance that this procedure, in that carrying passengers within a casualty vehicle, while being transported on a flatbed must only be to the nearest place of safety and at no more than 30 mph. We are aware of other organisations that are permitting the carriage of passengers, within a casualty vehicle, past a place of safety and to destinations of varying distance and travelling more than 30 mph. We believe this practice to be incorrect and not permitted under current legislation, including legislation relating to Health & Safety.
AVRO firmly believes that the procedure laid down within SURVIVE best practice in regards to attending incidents where vehicle occupants need to be moved to a place of safety first is the best procedure along with removal by means of a flatbed recovery vehicle is the safest and most practical course of action.
As such the industry must be given the necessary legal protection to undertake this procedure for which its operators have the required skills, knowledge, and experience to undertake safely.
However, currently this procedure has not been tested in court and due to the lack of clarity within current legislation it cannot be guaranteed that adopting the procedure as laid down in SURVIVE best practice in respect of removal of passengers remaining within a casualty vehicle while being transported on a flatbed recovery vehicle, and its application under COVID-19 situations will not result in a prosecution.
In a situation where an operator finds themselves with no other available option to safely remove vehicle occupants from a casualty vehicle and at this stage would usually apply the SURVIVE best practice procedure to load a casualty vehicle with the occupants remaining whilst being transported to a place of safety it must be taken into consideration that firstly application of this procedure at present may risk prosecution and secondly if it were to be applied it must only be undertaken following a dynamic risk assessment supported by written safe system of work, risk assessments and method statements to cover any such activity.
All roadside recovery operators must make an individual operational assessment based on their individual assessments and taking into consideration the risk of possible prosecution. AVRO will be reviewing and re-issuing the guidance released on 30th March 2020 to consider this situation.
We fully appreciate that this now adds to what is already a difficult and confusing situation, but I am sure you will agree that it is key that all AVRO members, as well as the wider roadside recovery industry fully complies with current legislation. The matter is further confused in that SURVIVE best practice, which has been industry practice for a considerable time and used daily by roadside recovery operators is now being brought into question.
AVRO continues to be in regular dialogue with Department for Transport (DfT), Driver & Vehicle Standards Agency (DVSA), Health and Safety Executive (HSE) and National Police Chiefs Council (NPCC) and is lobbying for a resolution to this situation, however to be clear this is a fluid situation and it may be a case that a change in legislation is required to rectify this matter, that process could take months.
This is a priority for AVRO and in representing its members, will lobby vigorously to ensure that this situation is resolved at the first opportunity.
If you require any further information on this matter, please contact the AVRO office on 01788 572850 or e-mail sara@avrouk.com
Police Vehicle Recovery Scheme Management Fees
Member Communication
Police Vehicle Recovery Scheme Management Fees
19th May 2020
As you will be aware, AVRO has been working hard during the COVID-19 pandemic to ensure as much as possible is done to aid and support not only AVRO members, but the whole roadside recovery industry.
Police Vehicle Recovery Schemes and Statutory Removal, Storage and Disposal fees are a matter that required a great deal of attention including a very much overdue review by the UK Government prior to the COVID-19 pandemic. AVRO has been instrumental in leading on this and championing this cause through the Statutory Fee Stakeholder Review Group it formed in November 2018 and great progress was being made with direct and high level dialog ongoing with the UK Home Office, National Police Chief Council and many other industry stakeholders. This included a commitment from the UK Home Office for a review and a timetable for implementation. Unfortunately, the COVID-19 pandemic has prevented the UK Home Office from furthering this review and implementation, however AVRO is maintaining the pressure and insisting that the necessary work to further this continues, and we see this through to the end. We are confident we can achieve this, and we will be continuing to lead and champion the cause for our members and the wider industry.
Through AVRO's professional approach and representation, we have formed excellent working relationships with a number of key industry stakeholders such as individual Police forces and critically the National Police Chief Council (NPCC) who are very sympathetic and appreciative of the services our members provide to Police forces throughout the United Kingdom.
On the 9th April 2020 AVRO wrote to all UK wide Police Forces, this was addressed to the Chief Constables, Police & Crime Commissions and Liaison Officers. In addition, we also wrote to our partners at NPCC, who manage the vehicle recovery group within NPCC.
We have been very pleased with the response received from NPCC and for your benefit we have shared below both the questions asked of all who were written to and the response received from NPCC.
Question: A suspension or reduction in management fees paid by roadside recovery operators for work received under Police schemes
Response: We are very sympathetic to this request, there are two parts to this answer:
Forces contracting with via Management Agents (AA, FMG, GRG). We will ask forces to have discussions with their Managing Agents to forgo or at least substantially reduce management fees with a start date of the 1st April 2020 to be reviewed at the end of June.
Forces contracting directly with recovery operators. We will ask that forces forgo or at least substantially reduce management fees with a start date of the 1st April 2020 to be reviewed at the end of June.
Any support as above is conditional upon this being done on an open book basis in line with Cabinet Office Guidance.
Question: The waiver of any management fee in the case of any vehicle which is neither collected nor paid for by the vehicle owner or relevant party
Response: If payment is not collected from the vehicle owners some payment is still made from the proceeds of disposal, there are only a small number of cases when no payment is made because the vehicles have no scrap value. I feel that the level of management fees can be adequately dealt with as in point 1 above.
Question: An enhanced payment in respect of any PACE of "Police to Pay" incidents which are predominantly low paying incidents but require expert removal and specialist storage facilities such as SOCO bays.
Response: At this stage I am not recommending forces consider this.
Question: Consideration of financial support in the form of a monthly retained fee for services contractually provided based on average monthly turnover.
Response: It is our opinion that the reduction or removal of management charges in conjunction with the other Government support available should provide sufficient support to ensure fair treatment and continuity of service at this time. If any contractor feels that the terms of their contract or local circumstances are such that further support is justified, they should take this up with the police force concerned.
Question: Support in reducing where operationally possible storage of vehicles, which would usually be contractually required to store FOC. This can be supported by ensuring vehicles in storage are processed in a timely manner.
Response: At the moment there does not appear to be a significant increase in the number of vehicles in storage, however court delays due to postponed trials may cause a problem in future in the small number of cases where vehicles have to be held up to trial dates. Forces should not be holding vehicles for any longer than necessary and the support you are requesting should be business as usual. If individual contractors are not happy that this is happening or down the line, there is a large increase in numbers they should make representations to the force concerned.
It is important that we also share with you the following from NPCC response:
First of all, I like all Chief Constables, am extremely grateful for the work you and your operators undertake in respect of police schemes, especially during this difficult period. In response to the points you raise I will be encouraging Chief Constables to provide support where they can and although this is not binding as each force is independent, it makes sense to try to achieve a consistent response.
There are a number of points we need to go back to NPCC on, in particular in relation to the value of scrap which is key to income when recovered vehicles are uncollected as we are acutely aware that the price of scrap has dropped drastically.
However we are encouraged that NPCC is supporting our main request that management fees are reduced and we are encouraged to see that a number of Police forces are already following the guidance given by NPCC and starting to communicate with their recovery operators and management agents to implement this. We are aware today that both Hampshire Constabulary and Leicestershire Constabulary have both acted. In addition to this we are aware that consideration has been given to the current level of scrap price and one Police force has introduced a supplement towards the reduction, which again is very encouraging and is appreciated in supporting our members and the wider industry.
So our advice to our members today is, if you have not already received communication from your Police force in relation to the above, then we strongly recommend that you contact your Police force and if applicable scheme managers and bring this information to their attention and request the financial support you need as a roadside recovery operator to be able to continue to provide the dedicated and professional service which you do to respected Police forces UK wide through the trying and testing economic situation the COVID-19 pandemic has presented us all with.
Results such as this are true testament to the dedication and professional representation of AVRO, working hard for its members and the wider industry. We very much hope this result brings benefit and support to your business in this trying time.
If you would like any further information, assistance or support, please do not hesitate to contact the AVRO office on 01788 572850 or e-mail sara@avrouk.com
AVRO's "Next Phase" Survey
AVRO's 'next phase' survey is starting to take shape. here's a snippet from the results coming in.
We asked you " Looking forward, what do you forecast for your busines prospects.

Please take a moment to have your say by clicking the below link. It is important to complete the survey as your contribution can make a difference on future policy decisions.
The full results will be published in the coming weeks.
Click the link below to begin the survey
https://docs.google.com/forms/d/e/1FAIpQLSfxql-rZARd2KlRibBN7c01bTpA-w7OWMoX05TqwiXiTB51pQ/viewform
AVRO's First Survey initial results
AVRO recovery industry survey results are coming in. Whilst the survey is still live and can be completed on this link (link) there shows some definitive patterns forming that clearly illustrate the all round devastation to our industry.
In graph 1, 39% of respondents (green bar) had between 81% and 100% reduction in their recovery turnover.
If you take into account the Green, Red and Amber bars, the results show that 95% of respondents had experienced at least a 41% reduction in their recovery turnover.
In Graph 2, 28% of respondents (Green bar) had furloughed between 61% and 80% of their staff. If you take into account the Green, Amber and Red bars, this illustrates that 80% of respondents had furloughed between 21% and 80% of their staff.
Graph 1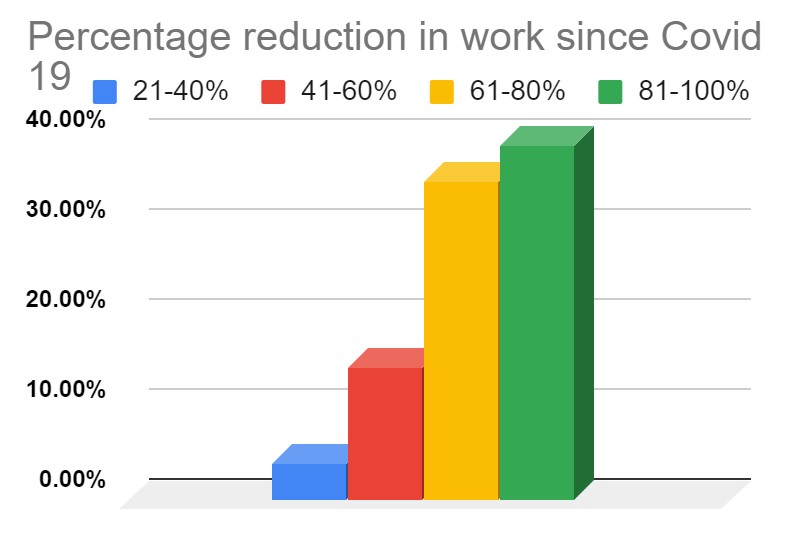 39% of respondents had between 81% and 100% reduction in turnover
95% of respondents had over 41% reduction in turnover
Graph 2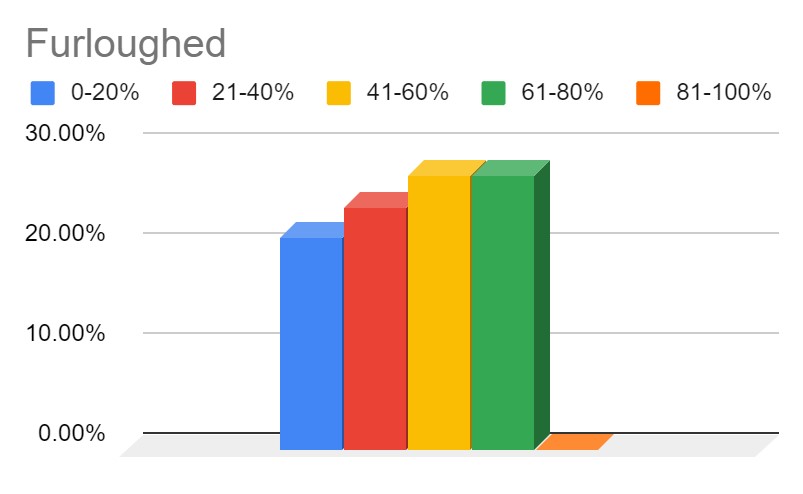 28% of respondents had furloughed between 61% and 80% of their staff
80% of respondents had furloughed between 21% and 80% of their staff
The results have aided our lobbying and communication with Government and stakeholders. The survey illustrations are an excellent vehicle to get your collective views across in a direct and simple fashion that can be easily understood in the Covid -19 environment that has been described by some as information overload.
At the end of the survey, respondents were given the opportunity to let us know their thoughts. Using your collective thoughts have been arguing that furlough, whilst financially helpful, it is not a good fit for our industry, that is largely a reactive response service, so requires staff remaining on standby to support the work providers instead of being prevented to be on call. These views have bolstered our requests to seek more support from the work providers to ensure the end users are receiving the best service possible.
We will be seeking more of your views in our next survey which will focus on the next phase of Covid 19 and how the industry will cope with remobilising their businesses.
With that said, if you have anything in particular that you feel maybe helpful to be included in the survey then please send in your request to sara@avrouk.com
AVRO President's Communication COVID-19 Coronavirus
9th April 2020

I am sure, like me, you have probably received plenty of communications from various parties, all sent in good faith and stating, "it is business as usual".I do not think anything can be further from the truth. In the best of times the roadside recovery industry struggles to survive for a whole range of reasons, such as low rates of pay, cost of training and compliance costs not to mention, vehicles, equipment, insurance and overheads. Even so, we operate as an emergency service, indeed many have said we are the 4th emergency service, often supporting Ambulance, Fire and Police services; however, we do not receive the recognition that the other emergency services receive.COVID-19 has exacerbated our woes, but the AVRO National Council has jumped into action; we have been listening and communicating with our regional members to understand the issues we are all experiencing first-hand, from these first-hand conversations we have identified a clear action plan to best support our members and AVRO continues to lead the conversation.Furlough (COVID-19 Job Retention Scheme)Credit must be given for the support Government has offered to businesses, but what they willbe judged on is the delivery. Employee furlough works for many business and industry models, but not ours. We need employees on standby, not paid to be at home. We need to be supported to keep our business open, not closed. We are in talks with Governmenton this and are hitting the point home that bespoke support is needed.GuidanceWe have produced specific roadside recovery guidance, so our members know what to do with roadside recovery operations, such as carrying passengers. The guidance we have produced has drawn from the advice and guidance given through our communications with the public health bodies of England, Wales, Scotland, Northern Ireland and ROI. What was clear that before we asked the questions, no one in these bodies had given any thoughtto the roadside recovery industry but working with these bodies we were able to achieve clear and concise guidance for our members.

See the whole communication here
Downloads