ABAX
A Complete Fleet Management Solution For all your business needs in 2022
A Fleet Management Solution will help your business increase efficiency and save money through better asset management, lower fuel and insurance costs, and reduced risks.
A self-installed solution means saving money on installations and getting added flexibility, that are suitable for any size and type of fleets. If you want full control over your vehicles and machinery, or if you'd like to know where your tools are at any moment, now you can – with ABAX.
ABAX Fleet Management Solution includes:
Desktop or mobile-friendly software
Mileage Tracking and HMRC-compliant-claims even for Grey Fleet
Vehicle Tracking
Driving Behaviour and Driver Scores
In-depth reporting suite
Advanced versatile Geofence
RFID for multi-driver vehicle usage
Free secondary backup tracker for valuable assets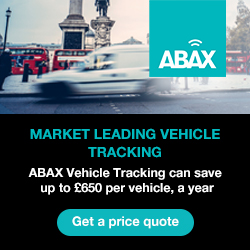 The easy to use search bar allows you to customise your view by filtering your fleet by asset, driver, department or location. When searching for a specific location, it will show the closest vehicles and you can use this function to help dispatch your fleet more efficiently and effectively.
This is a smart solution for everyone using vehicles at work. It automatically documents all driving via GPS technology, so you get the visibility required to control and reduce vehicle fuel costs, improve staff and vehicle efficiency, and automate mileage records and time sheets.
Works in real-time – all the time
Increase efficiency with automated reporting and notifications
Easy to self-install and no upfront costs
Collects valuable data including driver behaviour, driving scores, idling, emissions, fleet utilisation rates, speeding incidents and out-of-hours driving for business vehicles.
Now you have a full oversight of your Fleet by monitoring the company Driving Behaviour. This data will help you improve the driving skills across the entire fleet with specific tips for the drivers on what they should adjust. A fleet, which is driven efficiently and safely, costs less in fuel and servicing, it is greener, has fewer accidents and is cheaper to insure.
Whether you have company cars, a Grey Fleet, or a combination of both, with a Digital Mileage Claim solution you can expect up to 10% reduction in total fuel spend, increase productivity by 2-hours per driver, per month, reduce office administration by 45-minutes per driver, per month, and get 100% accurate, consistent and HMRC compliant records. All of this is achieved whilst providing privacy compliance in line with GDPR and automatic tracking of Advisory Fuel Rate fluctuations.
A comprehensive Geofence is a service for gaining control over all assets entering or leaving a defined area, which is made as a digital fence on your map. When your asset moves outside of the defined Geofence area an instant notification can be sent to the Email and/or SMS of your choice. A GPS tracking device can provide an additional layer of protection as well as security, offer peace of mind and even lower insurance premiums.
Finally, the ABAX Solution offers you a wide range of reports that can be adapted to your business needs. With these Reports you can reduce the number of hours you spend on office work as they make the daily administration of your business smarter and more efficient. You can use the reports and dashboard upon logging in, whether it is by mobile phone or computer. Scheduled reports will help you never miss a service or MOT within the fleet.
ABAX is a leading telematics company with high-quality ISO-certified software and hardware developed in-house. We offer lifetime warranty on all devices, 24/7 support, no upfront or installation costs and flexible contract terms.
Our complete fleet telematics tracking packages start from £10/month per vehicle for AVRO members, and if you want to switch to ABAX – we could cover the cost of that too!
Contact us on 01733 530815 quoting AVRO or email the team at info@abax.co.uk to schedule a free no-obligation demo.